The Gro Project & How To Decorate A Tombstone For Your Loved One
This post brought to you by Miracle-Gro. All opinions are 100% mine.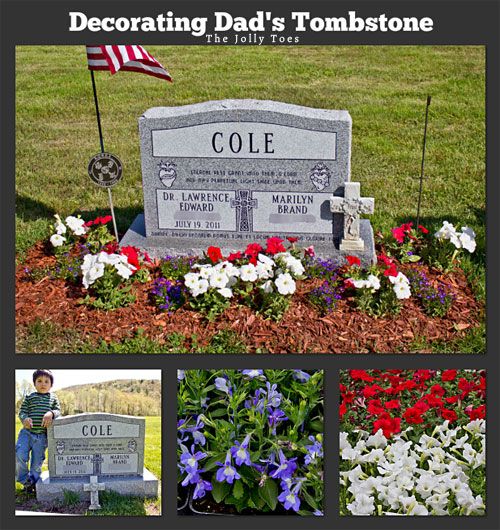 You can see the before appearance of the tombstone at the bottom left where there were no flowers. The one on top is the after appearance of the garden project that we did to decorate Dad's tombstone.
One fun garden projects that we did before memorial day was to shop for garden flowers, potting soil and mulch to decorate the tombstone of my husband's late father. It was last month that the tombstone got installed above his grave. It took my Mom in law 1 year and half to pay off the tombstone. She decided to have their names written in one stone because it is less expensive that way. She said she will also be buried right next to him. Anyhow, I told her that my husband and I are going to plant flowers in the front and side of the stone. I chose a red, white and blue theme because it's patriotic and I know Dad is a true and  a good American.
What we did is that we dug the soil around the tombstone, about 1 foot length and 6 inches deep. I spread Miracle-Gro potting mix and laid a black landscaping plastic on top. I tear small holes to insert the small pots of white and red petunias and blue lobilias. I spread a bag of Scott's red mulch on top of the plastic and around the plants. The black plastic will help keeping the grass away from the flowers and it adds a very neat touch after you're done gardening. I watered the plants using Miracle-Gro's LiquaFeed All Purpose Plant Food Advance Starter Kit which I mixed 2 tablespoons of it in a 2 gallons of water on a watering container.
Have you had other gardening projects lately? Do you use Miracle-Gro in your gardening too? I like using their products in every gardening projects that I do. If you haven't tried gardening yet, you might want to check out The Gro Project on Facebook as they have 5 fun projects that are easy to do for a beginner gardener. Don't feel you're alone in starting up your garden and planting projects! Follow Miracle-Gro's Pinterest page today, explore their forums, share your questions and stories of your gardening projects. Here's a short video of what The Gro Project is all about. Enjoy watching and good luck in your gardening!