Corn Progress
We are so excited to see our corn doing well in my Mom in law's garden. I am just thankful to her that she let us plant some corn in her yard. This is a picture after 4 weeks that we planted it. Yesterday, we visited her garden again to pick up some sugar peas. I saw and measured the corn it's way up to my waist level already.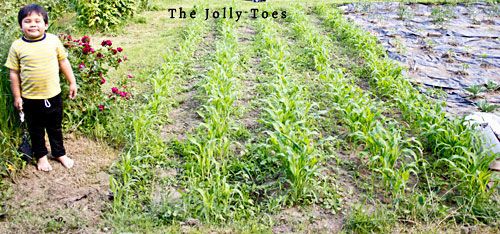 Little G and the corn progress at my Mom in law's garden.
We're aiming for knee high on the 4th of July and I guess we got more than we expected. We're hoping to harvest lots of corn in the before Fall. How about you, are corn gardening too?