Asian Goodies From DH
My dear husband surprised me the other week of these Asian Goodies. He just saw a pack of Bean thread and Jasmine rice at Tops Supermarket and he couldn't resist of buying it for me. I didn't told him to buy it but I'm glad that he did as it is rare to find Asian Goodies in an American Supermarket. I immediately cooked some cups of rice from the 10 pound bag of Jasmine rice. I also think that a Soup is nice with shrimp and vegetables to go with the Bean thread noodles.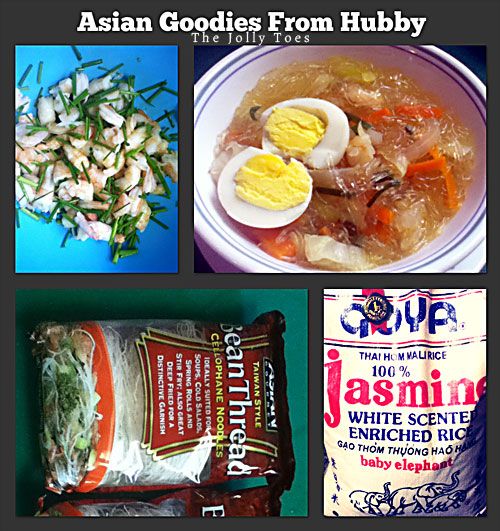 Thanks to my hubby for these Asian Goodies. Smiles.
I sliced a  pack of large shrimps and picked up some fresh chives at the back of our kitchen. I also cut some carrots, onions and cabbage for the soup. I boiled some eggs to garnish the soup. I immediately gave him the first bowl of soup. I enjoyed eating it with rice but he didn't eat it with rice because for him, three bowls of the soup is enough. The Sweet Fella is stuffed. Laughs. The thing about this soup is that my kids didn't like the noodles, they only ate the vegetables and shrimps with rice. The two little Fellow are not used to eating this so I cooked a small batch of stir fried Pancit for them.