Photo Canvas 16×20 From Canvas On Demand | Review & Giveaway
I'm so excited that my second canvas arrived a week ago. It's just now that I am able to review it because I got very busy in our monthly activities here. I got to attend Bible conference with my husband the other week and a week after that was Little G's Vacation Bible School. There's just tons of stuff and planning for me to do and organize, and I thank God that I was able to manage all of this.
This is the second canvas that I received from Canvas on demand. The thin, soft plastic envelope inside is what protects the canvas surface not to rub against the rough surface of the box. The small teeth hook at the back is what holds the canvas when hanging on the wall.
I want to thank Canvas on demand for the opportunity again to review their product. I'm so happy that I was able to experience their online service and that I was able to see the beautiful quality of their canvas print. I can see that they really put great effort in making their canvas wrapped neatly and making the photos looked realistic. Canvas on demand has growing costumers online, making them the most popular Photo Canvas company reaching 158K likes on their Facebook page. There's got to be a reason why their costumers loved them, and now, I see it more after having seen two of canvas from them. This is a canvas photo of Little G and mommy. It is taken on a different location than my first canvas. I must admit, it's really cool to see our huge faces in a 16×20 photo canvas!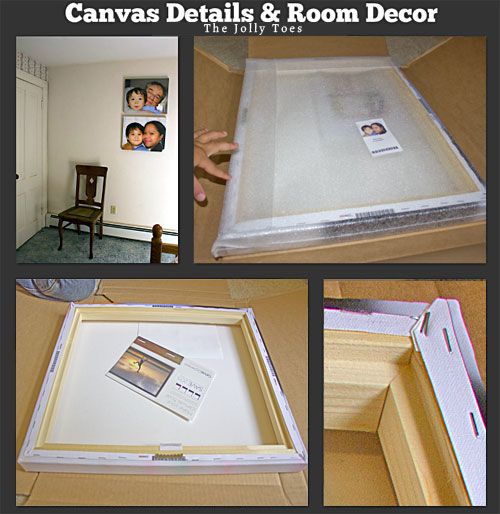 We also hang it together with the first canvas in our master's bedroom. I love the double frame as they are sturdy, and the staples were neatly laid at the back.
 Here's our happy little G holding the canvas. If you're wondering where's the first canvas, you can find my other blog review about it here.
Check out Canvas on demand's Facebook page and Twitter page today as they announce great deals on canvas prints from time to time. They even offered a $39.99 worth of a 16×20 canvas print with free shipping in July! Keep your eyes open folks as it might appear again. It's really cool to print photo memories in a canvas. Don't forget to enter in my rafflecopter below for a chance to win a Free 16×20  canvas (photo of your choice)! Good luck!
Disclosure: The 16×20 Photo Canvas product is being provided to me by Canvas on demand for my participation in this blogging/trial program. These items are not intended as payment for any favorable opinions. I'm working with the Canvas on demand brand and that they provided the product for the review/giveaway to ensure we're operating within FTC guidelines.