Vipre Internet Security Software Review
This post brought to you by Vipre. All opinions are 100% mine.
Do you use the internet more often? Perhaps you're a blogger like me who can't live without the internet? If you do either of both, then we're on the same boat. It's vital for us self-employed internet geeks to have our computers protected with a dependable internet anti-virus or internet security software being installed.
There are many anti-virus software when you search the internet. You can even test or get a free trial to any of them. As for my experience, I got to install VIPRE Internet Security for a review and I have it in my laptop as shown in the screenshot above. I thought my computer is cleaned to all threats as I have another internet security software before trying them out. I downloaded their 30-day Free Trial directly from their website. Next, I uninstalled my previous internet software for this new software to work properly and I restarted my computer. I went to Firefox downloads and clicked on install Vipre software. Installing it took a while so I was able to do my breakfast. After it got installed in my computer, I clicked on Vipre quick scan and it's amazing that in 5 minutes it protected me from 72 threats that could've harm my computer. You can see it in my screenshot below.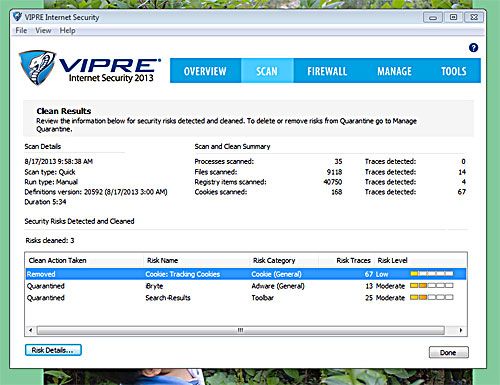 When I highlight the risk name and clicked the risk details button, it shows the detailed description of what that risk name and category is all about and it gives you an advice on what to do before you accept it or not to do what it opt to do.
About Vipre internet security:
It offers more than what their anti-virus package offers. Additionally, it has two-way firewall protection, anti-intrusion protection, anti-spam protection and bad website blocking features. This means that their security features are more sophisticated that it protect against viruses and other malware threats without slowing down your PC. I won't notice it's running (even during scans and updates) which is nice as I can work smoothly doing my internet blogging rounds.
It is the only antivirus solution to include automatic software patching with the Easy Update feature. Out of date software like Windows, Java, Adobe, Skype, iTunes and others are the most common cause of PC infections, and VIPRE is the only antivirus to automatically patch these security holes.
VIPRE also comes with free U.S. based technical support!
So don't wait to have your computer get virused before trying out anti-virus and internet security software! Try Vipre today!