Enjoy Watching Football With Buffalo Wild Wings
This post brought to you by Buffalo Wild Wings. All opinions are 100% mine.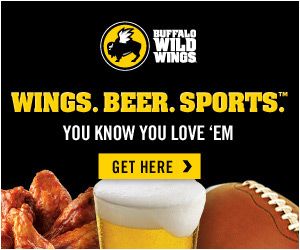 I was at a housewarming party and all of my friends are talking about their favorite football team. Somebody felt bad that Miami Dolphins didn't make it and my friend showed me her husband's cave which has a banner of Steelers. He also have many trinkets about them as he is a big fan. I asked my husband who is his favorite football team and he said of course, the Steelers because he's from PA. Anyhow, I remember a friend invited us to go to Buffalo Wild Wings during our stay in New Jersey. My kids and I really like eating the chicken wings. We went with our friend because he loves to drink beer while watching television games there. He said he might visit us in our place in the next few months. I'm looking for Buffalo Wild Wings in our place and there's one in Erie which is 1 hour and 45 minutes drive from our place. I'm sure he will appreciate it if we'll take him there when he visit us.
Have you heard of the current monthly promotion at your local Buffalo Wild Wings which is the Bottomless Boneless Lunch? This is the new crave to many wing fans lately because it's so easy eat wings without bones and for you to fully enjoy watching your favorite football game in the next weeks! Buffalo Wild Wings is the go to place for Family, Fun and Football. They have ongoing specials lately like Wing Tuesday and Boneless Thursday. I didn't forget to Like Buffalo Wild Wings on Facebook as my family are craving for their wings! You can also Follow Buffalo Wild Wings on Twitter to hear more good stuff about them!