Nurses Brooch Watch And Earrings Review
I'm sure every nurse likes to find neat accessory for their nurse outfits. Have you tried looking for a Nurse brooch watch yet? It's also fun wearing jewelry accessory when going to a party. Are you looking for a new pair of earrings that would match your party outfit?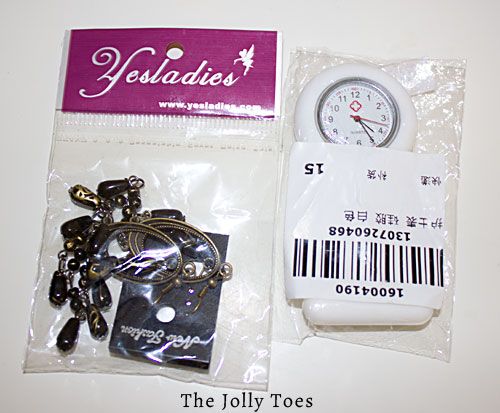 I like to explore fashion jewelry racks when I visit some stores in our area. I like to pick up the ones that will go to my outfits. Lately, I like the ones that are classic looking and something long and hanging. My husband said I look like a Goddess with this new earrings. He said it's not my natural look but I told him I just like to ornate myself with a  jewelry or two once in a while. I'm sure every girl would relate with the idea that we just like to wear something pretty. Anyhow, I try not to let him worry by picking the very low priced jewelry that I like. Just recently, I got an opportunity to receive these cool accessories from Tmart for me to express my honest review. At first, my eyes got drawn to every pages in their site because the prices are very low and affordable. They said their products are from Hongkong and they have a US Warehouse where they ship items Free and fast within US. You just have to make sure that the ones labeled Free Shipping and US Warehouse items are the ones you pick if you're from US. This nurse brooch watch is really cool and I'm thinking of giving it to my brother who is a nurse. I also got these oval tassel earrings from their jewelry selection which is really nice and blends with my olive green blouse. I got lots of compliment with my looks. Wink! Tmart also have a Facebook page that you might want to like and explore new items in line with jewelry, electronics, health & beauty and more.
This is the nurse brooch watch. It has this smooth silicone around the clock and extends up to the pin. It has second hand and is really perfect in checking vital signs to patients in the hospital.
I'm wearing the oval tassel earrings. I really love wearing this particular design as it doesn't look very huge. It's light to wear for the ears too!
Thank you Tmart for this jewelry goodies!
Disclosure: The jewelry products are being provided to me by Tmart for my participation in this blogging/trial program. These items are not intended as payment for any favorable opinions. I'm working with Tmart brand and that they provided the product for the review to ensure we're operating within FTC guidelines.